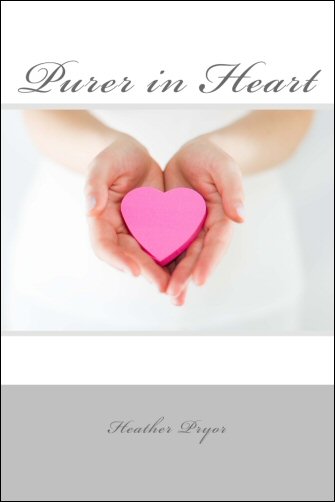 Heather Pryor, from Pryor Convictions publishing, has just published a book that stands out in two aspects. Purer in Heart is designed to be as useful for a girl of 13 as it is a woman of 63. And although it does lean towards application in a woman's life, it covers a wide variety of Biblical topics.
Don't let the title of the book mislead you; it is not primarily a book about sexual purity, modesty or taking care to avoid filthy language. In 13 lessons (in other words a typical "quarter" of the year), a class based on the book would cover topics as diverse as gluttony, pure religion (sincerity and good works), and the pure image God has of his daughters.
In fact, the choice of topics is one of my favorite things about this book. These faith building or sin defeating topics are too rarely covered in teen Bible classes. And in my experience as an adult, the society of teens and adults is actually little different. Compare for example, the gossip about boys at 12, the drama about boyfriends of 22 and the griping about husbands of 42. A lesson on the need to control our tongues is always apropos.
Each chapter begins with several pages of text which includes sections where the student should fill in either a paraphrase or a copy of the scripture in question. Then at the end of the chapter there are questions that are intended to be worked through as a group. Finally there are 3 short sections at the end: a practical application based challenge, a "prayer request" (suggestions on how to pray about the topic), and finally a scripture to memorize. For a Ladies Bible class, each student would need their own book so they could prepare beforehand and have the scripture to memorize and prayer request on hand to work on during the week.
Sexual purity was covered under the chapter on "Purity in our Bodies," but I did not find any information too blatant for a young teen. Mrs. Pryor was plain spoken condemning the idea of "technical virginity," yet the material was not nearly as specific or crass as my daughter's health class. I would recommend that the chapter be submitted to parents for review. If a parent were concerned about this issue in a multigenerational class, then it would be very appropriate for a mother or other female relative to attend with her. In a class of only teens, a girl could skip a single class and get much out of the other chapters. As a mom I appreciate Christians dealing frankly with issues of sexual sin. As an adult American, I have become very aware that within our churches there are many people who may be attending but are caught in a web of sexual sin. At any age ignorance is poor defense in our sexualized society.
Monday's post on the benefits of multigenerational bible study was inspired by this book and the niche it fills. Not only does it focus attention on topics of need in teenaged classes, but it covers them in a non-patronizing way that makes them as appropriate for an adult Bible class as it does a teen one! If you have ever thought that your teen girls need something more-more time with the older Christians, more time spent on application, more time building their faith - this is the book that will fit your class. If you've ever found your ladies class getting a little old, covering the same topics on the same way, or needing a fresh voice, invite your teens, buy these books, and grow together.